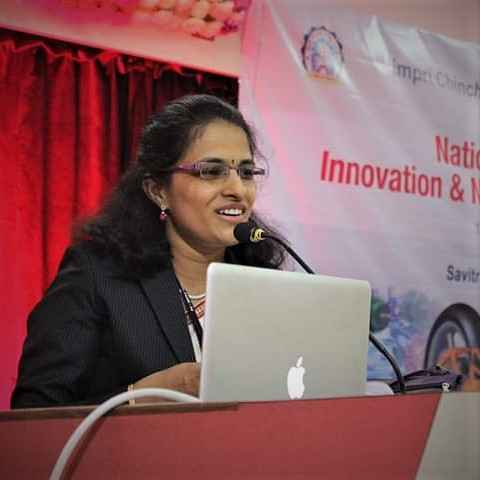 Testimonials
Anandu Kumar
2019- BE Mechanical
Mrs Bhalerao was my BE project Guide. She has been an excellent mentor to me. very energetic and enthusiastic nature which shows her drive and passion for her students .
Current Profile:  I am co-founder, CEO of Paushtikk Switch , a nutrition meal service startup from Pune .
Samruddhi Gaikwad
Mechanical Engineering, 2017
I just want to express my gratitude to Vrushali ma'am for her invaluable guidance and encouragement during the college and after the graduation as well. She is motivating, patient and supportive teacher. The courses learnt from her such as Computer graphics and Numerical Analysis helped me sail through the Masters. Thank you very much!
Current Profile: Sr. Engineer at Stellantis
Shreeya Nemade
Mechanical Engineering, 2019
It was an amazing experience to have been associated with Bhalerao ma'am. She was initially my subject teacher and after the interaction during my last year we gave in our option to have Mrs. Bhalerao as our project guide and thankfully we were selected. The whole project ran smoothly and i would definitely give credits to ma'am as her support and encouragement helped us a lot along the way. Thank you so much for believing in us.
Current Profile: Project engineer at Skoda auto Volkswagen India private limited
Rutuj Mutha
Mechanical Engineering, 2017
Was working with Bhalerao mam for my project report in Third Year, a perfect guide I would say to in terms of knowledge as well as guidance for our team.
Current Profile: Business analyst - Digital CRM & Customer Experience
Manish Milind Tongaonkar
Mechanical Engineering, 2020
Very supporting, good teaching skills, knowledgeable person, overall a charming personality.
Current Profile: Pursuing MS in Aerospace Department in IIT Kanpur
KRISHNA NATHA FUNDE
Mechanical Engineering, 2020
Worked with mam on final year project on topic solar powered tea stall & Been a student under her for CAD CAM automation subject. In addition to being to being an all time mentor, it was an enriching and pleasant experience to take guidance under her on various technical subjects as well as innovative ideas on the project we worked upon.
Current Profile: Ex Air Wing NCC Caded, Given Indian Army SSB Interviews & Qualified AFCAT, CDSE, INET Many Times
Siddhiraj Mukul Kadam
Mechanical Engineering, 2017
She was one of my favorite faculty at PCCOE. An amazing mentor who helps her students achieve goals in every way possible. One of the best qualities that I can highlight is her rigor to include various co-curricular activities in the engineering program which enabled a lot of students develop new non-technical skillsets. I admire her efforts in advocating to constantly improve our mechanical engineering department,Currently working with Tesla as a Supplier Industrialization Engineer. Location is Fremont, California.
Current Profile: Supplier Industrialization Engineer at Tesla
Shubham Karad
Mechanical Engineering, 2019
It was an indeed a learning and amazing experience with you.! From a Subject teacher to Guide in every aspect you helped us in improving Our skills and key learnings. Your expertise of upcoming technologies are always helpful in our carrier as i currently working on 3D printing and Other additive manufacturing Processes. Being a mechanical Engineer, Knowledge of programming and coding is vital requirement in new upcoming era thats why your foundation education in that area is always Helpful. Thank you and looking forward for your association in future at various fronts.
Current Profile: Operational Excellence Engineer , KSB Ltd.
Pratik Hule
Mechanical Engineering, 2020
Being the Foreign Language Learning Programme (FLLP) Co-ordinator at PCCOE, Mrs V Y Bhalerao has been instrumental in successfully running this activity for quite a few years now. She has been an active force in planning the complete programme, facilitating dialogue between the Tutors and the Institute, and ensuring that the course gets completed on time, without affecting the already packed schedule of students. She has been quick to address any issues that students have faced during this programme. Under her guidance, I completed two levels of the German Language Certification exam. A large part of the success of FLLP, one of the flagship extra-curricular courses on the campus, can be attributed to Mrs Bhalerao.
Current Profile: R&D Associate Engineer (Dassault Systemes)
Pranjali Ghule
Mechanical Engineering, 2019
Bhalerao ma'am has been my class teacher in BE. She has always been enthusiastic and supportive. I have thoroughly enjoyed every lecture of ma'am. The connect she developed with every student would never be restricted to class sessions, rather we could go to her for any problem we had. I could also complete my German language A1 level because of her. A true motivator, mentor, caring personality is how I think of Bhalerao ma'am. Thankyou for your guidance ma'am.
Nisha More
EnTc Department, 2021
Hello, I'm Nisha More, one of the alumni of 2021 batch. I got acquainted with Bhalerao ma'am because of German language course. She is the most helpful and most friendly teacher I have ever had. She has guided me throughout my German course journey. I heartily thank you Bhalerao ma'am for being such a nice teacher.
Current Profile : Software Engineer at Capgemini
Mihir Gharat
2020
I was a student of Bhalerao Ma'am for the subject NMO, her way of teaching during the practical sessions was one of the key factors why our basics of coding and flowchart concepts were clear. Not only technical but Ma'am was also the co-ordinator of Professional Development Cell and I had an opportunity to work with her during various events which we conducted successfully and creatively.
Current Profile : Application Development Associate, Accenture
Nitin Shinde
2019
Bhalerao Ma'am used to teach us CAD/CAM Automation like other subjects, before going for any practical or lecture she used to go thoroughly inside it, indicates her dedication towards teaching. From my view, she is really enthusiastic, disciplined, hard working professor as well as responsible housemaker. Directly or indirectly she is motivational source for every student who want to do something in life. Thank you ma'am for supporting and enlightening all my ways.
Current Profile : Jr. Engineering Assistant at Oil & Natural Gas Corporation (Mumbai)
Vinay shinde
BE Mech 2016
Very good at networking and having right people skill. Still connect with alumni on personal front is remarkable 😇
Current Profile : Automobile Design engineer@ Mercedes-Benz Rnd India
Yash Dhake
Mechanical 2018
It is my honor to have studied & worked with a professor like Mrs.Bhalerao. She has taught me subjects like Numerical Methods, CAD/CAM and Product Design & Development. Prof.Bhalerao has always focused on a balanced approach while teaching subjects to her students. I can share one such example of Product Design subjective, for which maam not only introduced us with the theoretical concepts, but also went one step ahead and arranged a visit to a renowned design college which gave us practical exposure with hands on experience. Overall I had a great experience and learning.
Current Profile : Content Strategy Specialist - Dassault Systemes